Smithsburg EMS is primarily volunteer by nature, supplemented by competent and dedicated career staff, many of which are current or former volunteers. While many people may have an idea of what occurs during an EMS incident, life at the station remains a mystery.
Do the providers sleep at the station? What is there to do at the station? How do providers unwind?
The Smithsburg EMS building was deliberately designed to resemble an average American home. The intent is to provide volunteers a familiar and relaxing environment for an otherwise stressful job. Career staff, volunteers, and officers all work together in an environment that encourages personal and professional development along with community outreach.
Mornings at the station resemble those of a typic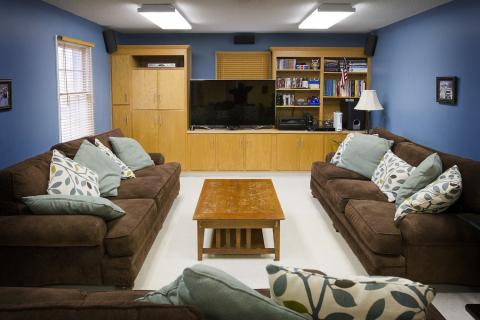 al family.  Volunteers can choose to cook breakfast in the full service kitchen or elect to go out to any number of local restaurants. Once breakfast is finished, volunteers complete detailed checks of the units and complete chores around the station. Daily duties are an important aspect of an EMS department. Due to the nature of the job, patients expect that equipment and supplies will be functional and adequately stocked. SEMS performs detailed safety and supply inspections on available units every day. Each unit is fully inventoried on a weekly basis.
During the afternoons, volunteers can relax with any number of activities, to include: horseshoe pits and volleyball, volunteer-funded full service entertainment that includes video on demand, Netflix and Blu-Ray capabilities, and plenty of training material for those wishing to expand their capabilities. Volunteers, particularly those in their youth, typically spend numerous days in the station, especially during the summer months.
After business hours, volunteers often have family members and friends visit. A few times per week, Smithsburg EMS will have a potluck dinner where career staff, volunteers, friends and family can gather together. Once station chores are completed, volunteers are welcome to use the on-site laundry facilities for personal items. It is not uncommon to see several members engaged in writing papers or doing homework, especially those members who are local high school and college students.
What's a Call Like for a New Member?
You are at the conference table, eating lunch with the crew.  Suddenly, a series of tones sound, a klaxon vibrates in the background, and you hear the words "Medical Response" repeated numerous times. The career paramedic and driver drop what they are doing and listen intently to the dispatchers. You hear "Medic 79, Engine Company 7 respond – Intersection of Jefferson Boulevard and Mapleville Road – Personal Injury Collision – 1729". Within seconds crews begin to mobilize toward the ambulance.  You hear a paramedic supervisor respond to provide additional assistance. You remember your unit assignment, load appropriate gear onto the first due ambulance, and jump into the back. Under direction of the paramedic or officer on scene, you will provide care, assist patients and collaborate with other departments and agencies to complete the call in a quick, efficient and professional manner.
What Do the Uniforms Looks Like?
The department provides uniforms at no cost.  Our volunteer and career staff wear leather boots that are resistant to water and blood.  Specialized navy blue pants and a Smithsburg EMS t-shirt are also provided. Members have water-resistant polos to wear during normal business hours. Winter wear includes a Smithsburg EMS parka/jacket, "job shirt",  or pullover. Most professional paramedics will have their own stethoscope, quick reference materials, and a reliable watch.
Is the Environment Formal?
On calls for service – yes, the environment is formal. People who are sick and injured expect a competent and caring professional to arrive at their door in a timely fashion. During the first several minutes of patient contact, paramedics are tasked with determining all the relevant facts, medical history, medications, and other circumstances surrounding a patient's 9-1-1 call. Immediate lifesaving interventions will typically be provided immediately on scene. We aim to determine destination or disposition within seven to 10 minutes of contact and for patients with time sensitive injuries or illness to be en route to a hospital within 15-20 minutes.
At the station, the atmosphere is what you would expect from a family and is typically laid back. Our paramedics range in age from 24 to 45 years, are both male and female, and serve as the focal point of mentorship within the department.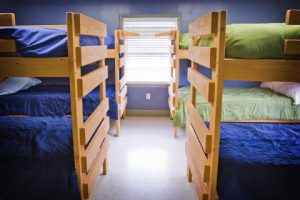 Many of our former military personnel compare the camaraderie to that of their former units. Like a military environment, rank and position are used to establish order and responsibility, although the department is founded on very democratic principles. With the exception of the Operations Director, all other officers of the department are either democratically elected or appointed by the democratically elected Chief of Operations. New policies and procedures are voted on by the membership at monthly meetings. Financial regulation and career employee appointment comes from the Board of Directors.
Many of our members and employees maintain deep personal and professional bonds outside of work. We joke with each other, pull pranks, exercise together, watch each other's children and pets, celebrate together, grieve together, and engage in all manners of fellowship. In the end, we are all united by the department's central mission: Servare Vitas – To Save Life.